Euncet Business School is a private business school with 40 years of experience as a training centre for professional leaders. Currently, it has two strategically located university campuses: the Euncet Terrassa campus and the Euncet Barcelona North campus. Its locations allow students from the Euncet community to enjoy Terrassa, one of the historically most important cities in the business fabric of Vallès, and Barcelona, the cosmopolitan city of Barcelona.
In addition, the equipment in the classrooms has been renewed on both campuses to ensure optimal conditions for streaming sessions. In order to improve the acoustics, an environmental microphone system has been incorporated. It is made up of over four thousand virtual microphones that perform a double function of microphone and loudspeaker. 86-inch screens have also been installed for use as interactive whiteboards.
At Euncet Business School we have opted to renew the technological equipment with innovative systems that improve the student experience with new teaching methodologies: on-site, blended and one hundred percent online.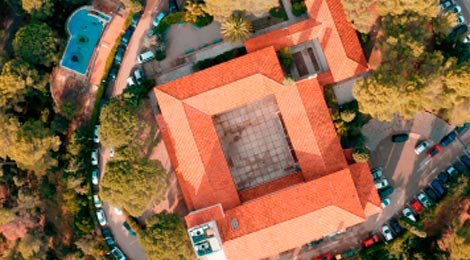 The Euncet Terrassa campus is located in the middle of nature, in the Parc de Sant Llorenç del Munt i l'Obac, 3 km from Terrassa. Its location in this privileged environment favours ideal conditions to encourage concentration, intellectual work and study.
In addition, the Euncet university community has enabled spaces where you can relax outdoors during breaks. In this way, students can study while enjoying the benefits of being in a study centre surrounded by nature and free from noise and the hustle and bustle of the city. Even though it is located in the Parc de Sant Llorenç de Munt, the Euncet Terrassa campus is easily accessible by private transport. In addition, for students who do not have their own transportation, we offer a daily bus service to facilitate their arrival at our centre.
The Barcelona North campus is located at the entrance to Barcelona, in Can Dragó. Euncet Business School students can easily enter the campus thanks to the good accessibility of the public transport network (bus and metro), as well as by private transport (car or bicycle). Its strategic location in the city of Barcelona favours our students' professional development and networking.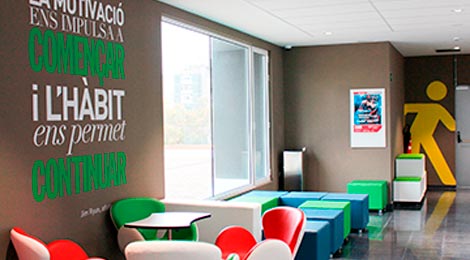 THE EUNCET CAMPUS FACILITIES
Euncet Business School has renovated facilities in which classrooms have been equipped with state-of-the-art systems to promote study and academic performance in any situation. In addition, the wifi connection has been improved to facilitate access to teaching content from anywhere on our campus.
EUNCET, A LEARNING ENVIRONMENT
Euncet Business School has several centres dedicated to teaching with classrooms equipped with the latest technology and Wi-Fi connection to promote study and academic performance.
Teaching spaces
Our facilities have spaces for teaching with more than 1,900 m2 of space for training. Students will also be able to use the enabled spaces enabled for promoting concentration and study, use the 2 computer equipped technology seminar rooms, as well as make use of the two laboratories. In addition, at Euncet Business School we foster a sense of community with a space designed to host large events: the Aula Magna.

SPACE
+ de 1.900 m2 of space for training

TRAINING CLASSROOMS
We have

26 classrooms

designed to promote learning


MAIN AUDITORIUM
We have a Main Auditorium prepared to host large events


STUDY ROOMS
We have

4 study rooms

designed to promote concentration and intellectual performance

COMPUTER SEMINAR ROOMS
We have

2 computer seminar

rooms with the latest technology

LABORATORIES
We have

2 laboratories

with all the necessary equipment for their use
parking
To improve and facilitate access to our campuses, the university community has its own free parking available. It is an open space with capacity for 175 vehicles (motorcycles and cars) with a signalling system to facilitate entrance and exit from the facility. In addition, within that same space, the Euncet community will have a stop on the free bus service also at their disposal.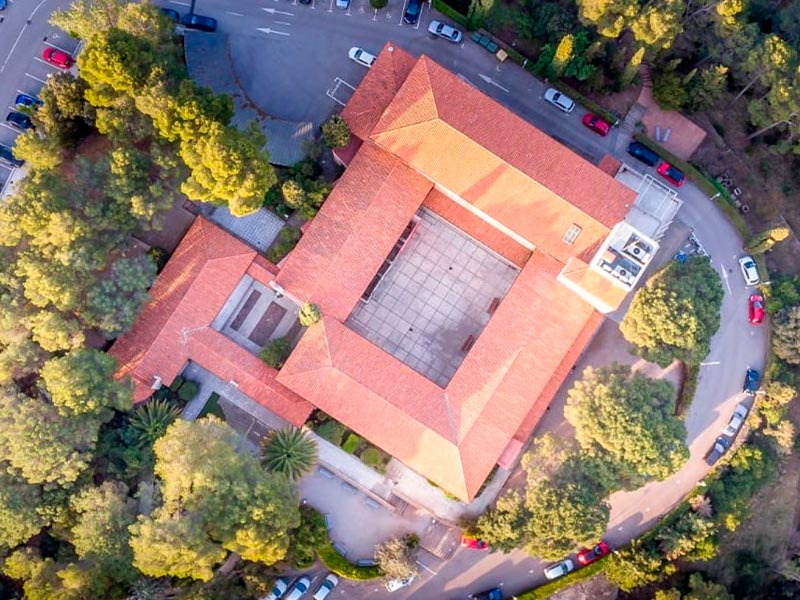 Sport facilities
At Euncet Business School we have one of the largest sport facilities in Barcelona equipped with state-of-the-art sports equipment. In the more than 350,000 m2 of facilities, the Euncet community can make use of 3 swimming pools, 8 tracks (athletics, paddle tennis, futsal, basketball and hockey), 1 pavilion, state-of-the-art sports machinery, and enjoy the rest areas and bar.
INDICATORS
350.000 m2 of sport facilities
3 pools
8 tracks
1 pavillon
Sport machinery
Relaxation areas and bar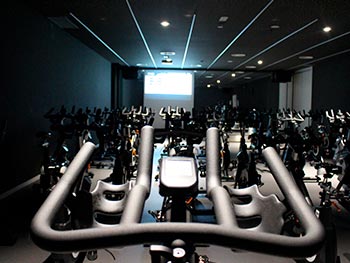 In our facilities at the Barcelona North Campus you will find:
Approved 8-lane athletics track with jumping and launch area
4 regulation paddle tennis courts
2 outdoor multi-sport courts for futsal and basketball
1 hockey rink
1 pavillon
1 outdoor pool