PROFESSIONAL CAREERS: we set you straight….
AND WE FACILITATE THE SEARCH FOR NEW CAREER OPPORTUNITIES
Our Professional Careers Service allows us to provide individualised attention in career guidance, to enhance the personal talents of our students and alumni for their eventual employment and to offer direct contact with companies in our locality. The objective is to improve the student's employability through guidance, advice, professional intermediation and approaches to collaborating companies.
Do you need career guidance?
At Euncet Business School, in addition to receiving training that consolidates your career, you will also have at your disposal our Professional Careers Service. Our team of professionals will guide you and provide the necessary resources to facilitate your entry into the world of work, regardless of whether you are still studying any of our university courses or if you have already completed one.
This programme allows Euncet to boost the individual talents of our students and alumni in providing them with direct contact with the more than 500 collaborating companies that are part of the Job Exchange, available to the entire Euncet community.
At all times, members of the Euncet community have at their disposal the team that makes up the Professional Careers Service. Those who wish to enter the labour market will get personalised advice and intermediation in which, through a process of orientation, their individual professional profile will be studied in order to highlight and reinforce the skills to make their profile more attractive in any selection processes.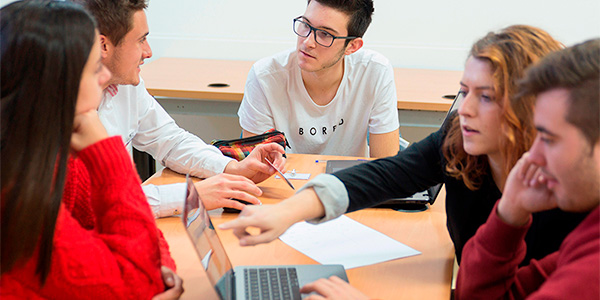 Regardless of whether you have work experience or not, Euncet Business School students (whether alumni or ongoing) can access our Professional Careers Service and enhance their skills and abilities to make their profile stand out from the rest.
Thanks to our advice and support system you can analyse your job profile, work on any weak points and reinforce the strengths, to set a course towards what you aspire to be.
We have an extensive job exchange with more than 500 collaborating companies in which you can see what job offer fits your profile and how to apply. To achieve this, our team of advisers will help you define your professional goals and create a professional orientation plan with which to achieve your goals.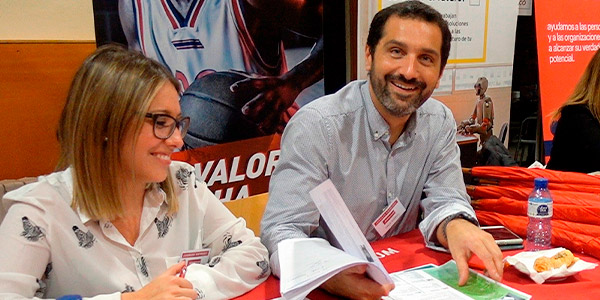 If you are a company looking for professional profiles which promote the development of your business, you cannot miss out on the collaboration opportunities we have for you.
At Euncet Business School we train our students to become the leaders of tomorrow. Our Professional Careers Service is the meeting point between our Euncet talent and you, the collaborating companies.
In order to guide you during the selection process for new talent we put our Jobs Board at your disposal. On this platform you will be able to publish your job offers, both in terms of hiring and internship.
In order to facilitate the suitability of candidates, at the Professional Careers Service we will help you during the selection of candidates, taking into account the different profiles which form part of the Euncet community: junior, senior and executive.
In addition, we organise the Euncet Company Day annually, an event where our students and alumni can learn about the professional possibilities offered by those companies participating on the day, as well as workshops where professional skills and competencies can be enhanced.