VISITING STUDENTS AT EUNCET: SEMESTER PROGRAMMES
Students from our partner universities are welcome to apply for an academic exchange period (either one semester of a full academic year) at our business school, where they will be able to take modules from our official degrees.
All courses are one semester long and are taught in Spanish and/or Catalan. However, some subjects are taught in English. You can check the list of courses available in each period and the language of instruction in the following links:
More information on the syllabuses (course descriptors, academic calendars, class timetables, etc.) can be found in the link to each degree below:
APPLICATION PROCEDURE FOR EXCHANGE
You should contact your home university and apply for admission to the exchange programme with them.
Your home university will send Euncet your nomination.
You will then receive instructions from Euncet to complete your application online before the deadline set (1 June for the autumn semester or full year and 30 November for the spring semester).
Once the application is received, Euncet will send you a confirmation message accepting your application and from there you can start making the necessary arrangements for your academic stay at Euncet.
We can also admit visiting students from non-partner universities wishing to study at Euncet for an academic period, anyone interested can contact international@euncet.es to get further information.international@euncet.es.
YOUR STAY IN SPAIN
You will find useful information to prepare your stay in our international students guide document here.
There are many options for living in Terrassa: you can stay in hotels, hostels, student residences or rent a flat or room. You should bear in mind that rents in Terrassa are cheaper than in Barcelona and that it is recommended to live near the train stations, where you will also find the stops of our private bus service.
Student residence: RESA Company has two residence halls for students in Terrassa: Hipatia (hipatia@resa.es) and Giralt i Serra (giralt@resa.es). To book a room, you may write an e-mail.
Private housing
For further information you may contact the international students office of our university (ISO) to get help and guidance on legal aspects related with residence permits, health insurance coverage needed and accommodation possibilities, which you should arrange before your arrival. They can also inform you about any extracurricular activities you may wish to undertake (Catalan courses, sports, social, leisure and cultural activities, etc.). The contact details of the International Office are: International Students Office (ISO)
http://www.upc.edu/sri/en/students
Campus Nord, Building C-3, Telecos Square C. Jordi Girona, 1-3
08034 Barcelona
Tel. 93 401 69 37
Fax 93 401 74 02
oficina.mobilitat.internacional@upc.edu.
HOW TO GET TO EUNCET?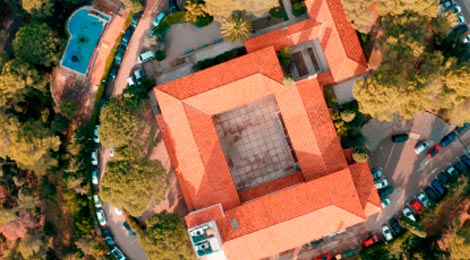 Terrassa is very well connected with Barcelona. To get to our campus, you can choose one of the two railway lines between Terrassa and Barcelona, and then take our free bus service:
Renfe: the R4 line covers the Barcelona-Terrassa route. You must get off at Terrassa-Estació del Nord station, which connects with our bus.
FGC: line S1 covers the Barcelona-Terrassa route. The closest station to Euncet is Terrassa-Nacions Unides, where our bus stops.
Our Barcelona campus is in Can Dragó and is easily accessible by public transport.
RENFE: near the Barcelona North Campus you have the Sant Andreu Arenal station (R4, R7 and R3) and the Sant Andreu Comtal station (R2 and R2N).
Metro: there are several stations: Fabra i Puig (L1), Sant Andreu (L1) and Llucmajor (L4).